Top 5 Reasons to Clean Your Clothes Dryer Vents in Your Arizona Home
If you live in Arizona you know how dusty and dry it is. Your clothes dryer vent builds up with excess lint, dirt, dust, and debris, week after week, month after month, year after year. Eventually, it can become a major house fire hazard. In fact, according to the National Fire Protection Association, nearly 17,000 clothes dryer fires are reported every year!
If that wasn't enough reason to call Allaman Carpet, Tile, and Upholstery Cleaning right now, as we clean dryer vents too!
Here are 5 Reasons to clean your dryer vents in Arizona.
1. PREVENTS Clothes Dryer Vent Fire!
2. Clothes Dryer will operate more efficiently.
3. Extend the Life of your clothes dryer
4. Fresher smelling laundry
5. Reduced chance of carbon monoxide poisoning
and bonus Reason number 6 –
6. PROTECT YOUR FAMILY!
Allaman has the experience and equipment to safely and efficiently clean your clothes dryer vents in your Arizona home.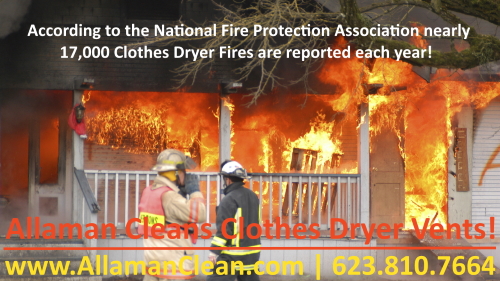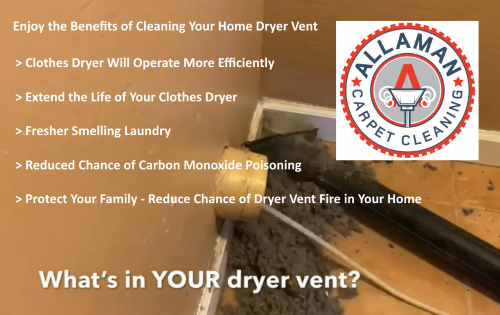 Clean Your Arizona Home Dryer Vents Yearly
Seriously. It's an inexpensive and straightforward process that takes less than a couple of hours. Why put your family at risk. Call Allaman Carpet, Tile, Upholstery, and ….Dryer Vent Cleaning today to schedule an appointment to have your clothes dryer vents cleaned in your Arizona home today in the Phoenix West Valley including Surprise, Sun City, Goodyear, Avondale, Buckeye, Peoria, Litchfield Park, Verrado, Palm Valley, Estrella Mountain Ranch, Glendale, Waddell and El Mirage. 623-810-7664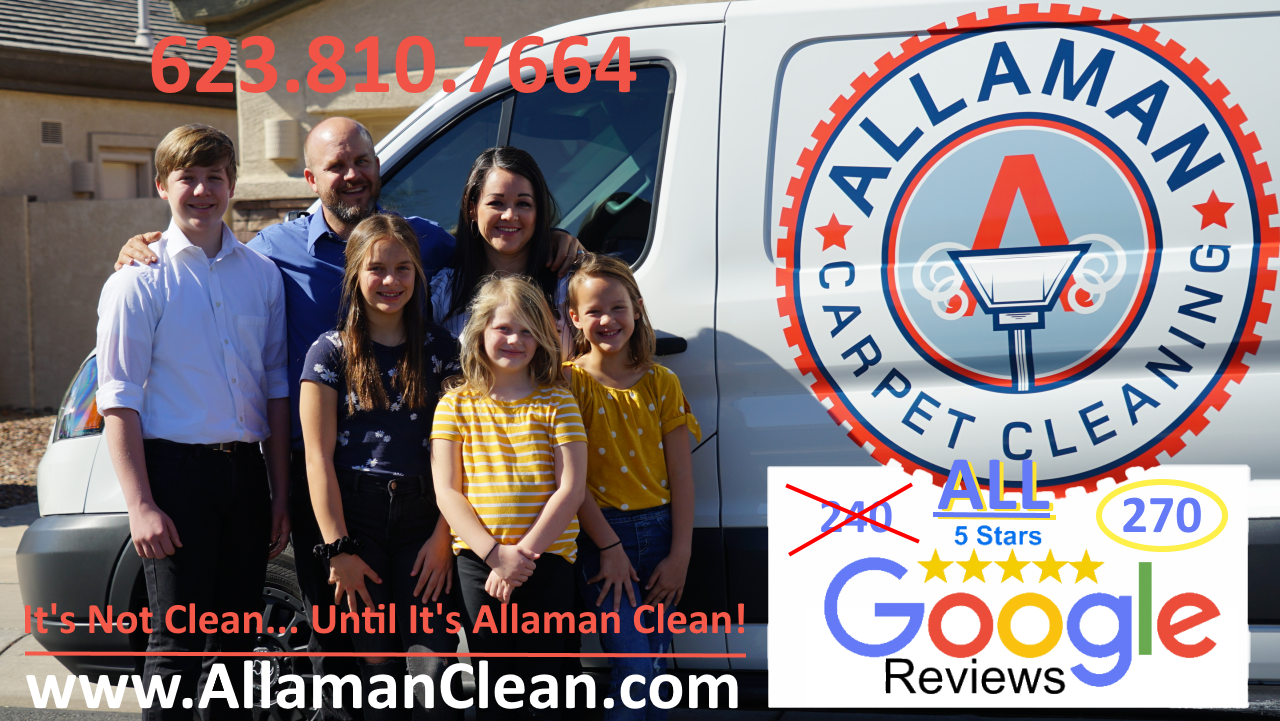 Arizona Clothes Dryer Vent Cleaning Service Areas 
Allaman services the Phoenix West Valley including Litchfield Park, Goodyear, Avondale, Buckeye, Verrado, Estrella Mountain Ranch, Waddell, Surprise, Sun City, Sun City Grand, Sun City West, Peoria, Glendale, El Mirage, Youngstown and Tolleson.  Give us a call to schedule your clothes dryer vent cleaning at 623-810-7664