Allaman Clean Arizona Service Areas
Allaman Carpet, Tile, Grout, and Upholstery provides quality carpet and tile cleaning services throughout the Phoenix Arizona West Valley in Maricopa County AZ.  including Litchfield Park, Goodyear, Avondale, Estrella, Verrado, Buckeye, Surprise, Sun City, Peoria, Glendale, El Mirage, Waddell and Phoenix. Here we list a few of the Arizona Service Areas we provide our carpet, tile and upholstery cleaning service.
There is a good reason Allaman Carpet, Tile, and Grout cleaning has MORE THAN 220+ ALL 5 STAR Reviews on Google. Because we are the best at what we do. Period. Our quality service at an affordable price just got better. We started out 2020 with a brand new Van and brand new state of the art cleaning equipment. Our commitment to quality means we've invested tens of thousands of dollars in our new equipment to provide you with the best possible carpet,  tile, and grout cleaning available.
We've also added air duct and dryer vent cleaning to our carpet, tile, grout, and upholstery cleaning services.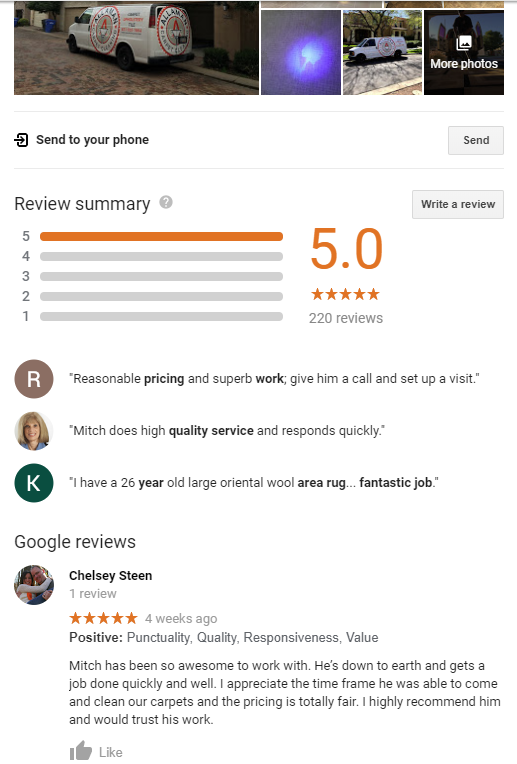 Give us a call at 623-810-7664 for a competitive quote or to schedule a cleaning.
Allaman Carpet Tile and Upholstery Cleaning | Service Areas in the Phoenix West valley including:
Litchfield Park, AZ.
Litchfield Park is a city in the West Valley of Phoenix with a population of around 6000 (as of 2017). Located just North of Goodyear, West of Glendale and South of Surprise AZ. Litchfield Park, Arizona is home to the historic Wigwam Resort and Golf course.  Luke Air Force Base borders Litchfield Park to Northwest. Litchfield Park is a beautiful Arizona town offering parks, shopping, golfing, and more. Allaman Carpet & Tile Cleaning is based out of Litchfield Park and provides Litchfield Park Tile and Grout cleaning as well as Carpet Cleaning in Litchfield Park, AZ. 
Learn more about the history of Litchfield Park here at the City of Litchfield Park's Website.
Goodyear, AZ. 
Goodyear Arizona located in the Phoenix West Valley is named after the Goodyear Tire Company founder Charles Goodyear. The small community was first called Egypt because of the Egyptian cotton grown there but was later renamed Goodyear after Charles Goodyear. The Goodyear Tire Company used the Egyptian cotton in the manufacturing of the tires. Goodyear is a thriving desert community and is growing fast. The population of Goodyear in 2019 was approximately 65,275.
Learn more about the History of Goodyear, Arizona here
Some of the popular neighborhood communities in Goodyear include
, Pebble Creek, and Palm Valley to name a few. Goodyear is also home to the Goodyear Airport and the Goodyear Ball Park featuring Spring Training for the Cleveland Indians and Cincinnati Reds (MLB) major league baseball teams!  Allaman provides complete professional Tile and grout cleaning in Goodyear Arizona as well as quality carpet cleaning in Goodyear. 
Avondale, AZ. 
Avondale is a thriving Phoenix West Valley Community located near the I-10 and I-101 Freeways.   Avondale is home to the Phoenix International Raceway NASCAR Sprint Cup Series, NASCAR races in March and November. November 2020 the Phoenix Raceway in Avondale will be hosting the Championship Weekend NASCAR Races.
The population of Avondale, Arizona is approximately 76,238 and growing. Located both North and South of the I-10 freeway about 15 – 20 minutes West of Phoenix. Avondale boasts many parks and family-friendly events. Avondale has many restaurants and shopping including one of 3 Costco stores in the Phoenix West Valley.
Avondale is bordered next to Goodyear to the West, Glendale, and Litchfield Park to the North and Tolleson and Glendale to the East.  Southwest of Avondale, AZ.  is the picturesque Estrella Mountains and Estrella Mountain Regional Park.  Allaman Clean is a quality carpet cleaner in Avondale, Arizona. 
We also clean tile and grout in Avondale, AZ., and throughout the Phoenix West Valley.
Learn more about the History of the city of Avondale, Arizona here at the City of Avondale's Website. 
Buckeye, Arizona
Another city in West Phoenix that Allaman Provides Carpet, Tile and Upholstery cleaning services is Buckeye, AZ. Buckeye is a city in rural West Phoenix just West of Goodyear.  Depending on which part of Buckeye as it is spread out, it's around a 30 minute drive to Downtown Phoenix and 40 minutes to the Phoenix International Airport. Buckeye has some beautiful new residential communities like Verrado, Encantada Estates and Valencia Heights to name a few. Buckeye is close to nearby White Tank Mountains and the Buckeye Hills Regional Park for excellent Arizona hiking and Mountain Biking. 
Peoria,  Arizona
Peoria Arizona is located in the Phoenix West Valley Northwest of Phoenix next to Glendale, Surprise and Sun City Arizona. Allaman provides carpet, tile and upholstery cleaning in Peoria, AZ. 
The population of Peoria in 2019 is estimated at 175,961 according to the US Census Bureau. Peoria Arizona is a fast-growing city in Maricopa County. Located just West of Glendale Arizona, Peoria is home to many developments, the Arrowhead Shopping Center, and the Peoria Sports Complex which is the Spring Training home for the Seattle Mariners and the San Diego Padres MLB Baseball Teams.  Peoria especially the Arrowhead area is packed with great restaurants and stores.