Phoenix Arizona West Valley Resources
At Allaman Carpet, Tile and Upholstery, we live and work in the Phoenix, Arizona West Valley. Based out of Litchfield Park, AZ. we provide carpet, tile, upholstery, dryer vent, and air duct cleaning services throughout the Phoenix West Valley including Goodyear, Avondale, Estrella, Verrado, Sun City, Surprise, Peoria, Buckeye, Waddell. El Mirage, Tolleson and Glendale Arizona.
Below you will find some links to city resources for each city we service as well as some business recommendations of companies we have come across that do outstanding work in the Phoenix Arizona West Valley.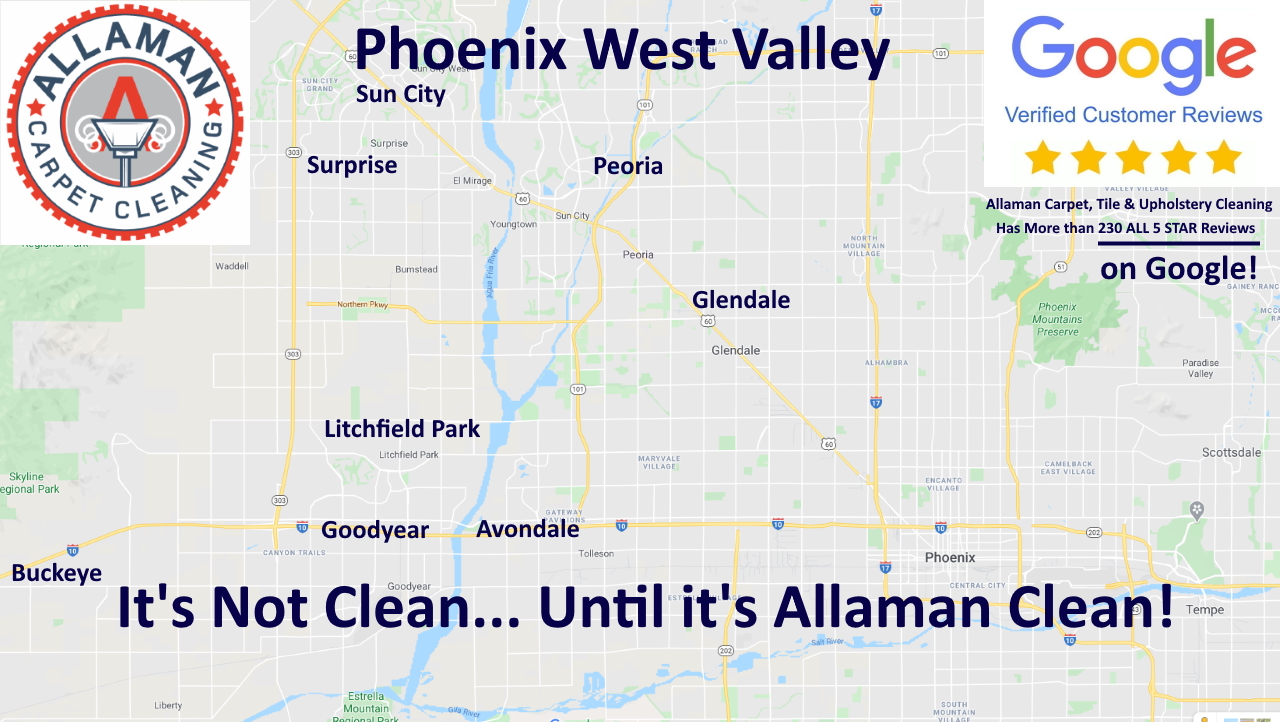 West Valley Recommended Business Resources
Here you will find some fellow Phoenix West Valley businesses that I recommend. If you give them a call please tell them, Mitch, from Allaman Carpet, Tile, and Upholstery Cleaning sent ya.   
Early Bird Pest Control
Henry is the owner-operator at Early Bird Pest Control. I'll tell ya what, this man has a great work ethic and he's always on time. Highly recommend Early Bird Pest Control for Phoenix West Valley Pest Control Service. Whether you've got a rat or rodent problem or a scorpion, cockroach, ant spider, or bee problem, Henry's your man.
Affinity Bio Solutions of Arizona
I met Affinity Bio Solutions on a carpet and tile job I did. I was called in to clean the carpets and tile at a home where there had been a person that had Hoarding Disorder living there. These guys were amazing. They were helping the family out by doing what they call Hoarder Home Cleanup in Arizona or Hoarded Environment Cleanup.
They were getting ready to list and sell the home for the family. Affinity does all sorts of cool Arizona Crime Scene Cleanup and Bio-Hazardrd cleanup and disposal. Real CSI kind of stuff. If you ever find yourself in need of biohazard cleanup for a crime scene wheres there's blood or bodily fluid to clean up, definitely call these guys in Arizona.
Advantage Legal Group
These guys are located in Bellevue Washington but the owner is a friend of mine. If you ever find yourself in Washington State needed a really good Bankruptcy Attorney in Bellevue or Seattle give them a call. They also practice real estate law and have Mortage Mediation Lawyers in Bellevue, WA.
I keep telling my friend, the owner if he gets tired of that Seattle rain to move to Arizona where the sun shines most of the time!
PMD Realty Group
If you are looking to buy or sell a home in Arizona the PMD Realty Group Team at Libertas Real Estate in Goodyear is really good. You can search all listed Goodyear Arizona Homes for sale on their website which has an ARMLS real estate and property search for every listed home and property for sale in the Arizona Multiple Listing Service including the Phoenix West Valley and Goodyear, Litchfield Park real estate, Avondale, Estrella, Buckeye, Verrado, Pebble Creek homes for sale, Palm Valley homes, Sun City homes for sale, Surprise, Peoria real estate and more.
Litchfield Park AZ Carpet Cleaning
Don't forget, Allaman Carpet, Tile and Upholstery Cleaning has more than 250+ ALL 5 star Reviews on Google. Give us a call if we can help you with Carpet Cleaning in Litchfield Park, Goodyear, Avondale, Buckeye, Verrado, Estrella, Waddell, El Mirage, Surprise, Sun City, Sun City Grand, Sun City West, Peoria or Glendale Arizona. It's Not Clean… Until It's ALLAMAN CLEAN!
Commercial Business Carpet, Tile, Floor & Upholstery Cleaning in Arizona
Allaman Carpet, Tile and Upholstery Cleaning also cleans commercial Business floor, tile, grout, carpet and upholstery cleaning? Yep! For all types of businesses. From restaurants, cafe's, coffee shops, retail stores and shops, office buildings and medical offices to gyms and fitness centers.
Give us a call at 623-810-7664 for all your commercial flooring, carpet and upholstery cleaning needs for your business in the Phoenix West Valley.