Air Duct Ventilation System Cleaning
Allaman Carpet, Tile, and Upholstery Cleaning also clean Air Duct Ventilation Systems for your air conditioning and air handling system in Phoenix Arizona West Valley including Litchfield Park, Goodyear, Peoria, Buckeye, Sun City, Surprise Glendale and Avondale, Arizona. We all know there's a lot of dust in Arizona. Imagine how much dust and tiny debris get sucked up into your air handling system every day, week, month, and years!  Even if you change your air system filters regularly (monthly or quarterly) some tiny particles of dust and dirt still get into your system, as evidenced by the amount of dust on your furniture!  Over time this dust and tiny debris can build up in the walls of your duct system.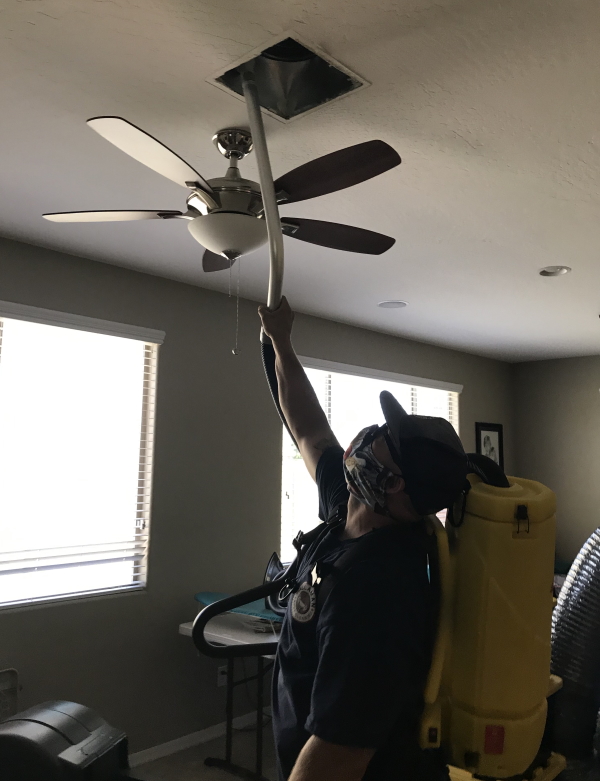 We recommend cleaning your air duct system every year or 2. It will vastly improve the air quality you breathe in your home and minimize dust particle build-up.
Here's how it works. Give us a call for free estimate at 623-810-7664. Before you do, it will be helpful if you count the number of air vents in your home. Not the returns where the filters go but the vents that blow hot or cold air into your home. Typical is 12-15 vents depending on the size of your home. There should be one in every room and sometimes 2 in bigger rooms.
We'll quote you a price to clean your air ducts and vents. We can also spray a finishing mist into the ducts that create a protective coating. We also have a green anti-bacterial mist solution that can be sprayed after cleaning to kill any bacterial or viral contaminants that may be in your ducts.
Then we schedule a day and time to come out to your home to clean your air duct system, air vents, and air returns. The process takes anywhere from 4 to 6 hours depending on the size of the house, the number of vents, and how many techs we send out.
First, we have to remove and clean all the air vents and set them out to dry. Then we vacuum all the vents and air returns. The filters from the air returns are put in plastic bags to seal the returns. We hook our equipment up to one vent which creates a giant powerful vacuum. then we plug all the other vents with foam.
Then one vent at a time we have to use our vent cleaning equipment which goes deep throughout the ducting from each vent back to the air handler, loosening dust, dirt, and debris from the sides of the ductwork and the giant vacuum sucks the dust, dirt, and debris out of the system. We do each vent and attached ductwork, one vent at a time.
When complete we then spray the protective coating and the green antibacterial mist solution in each vent.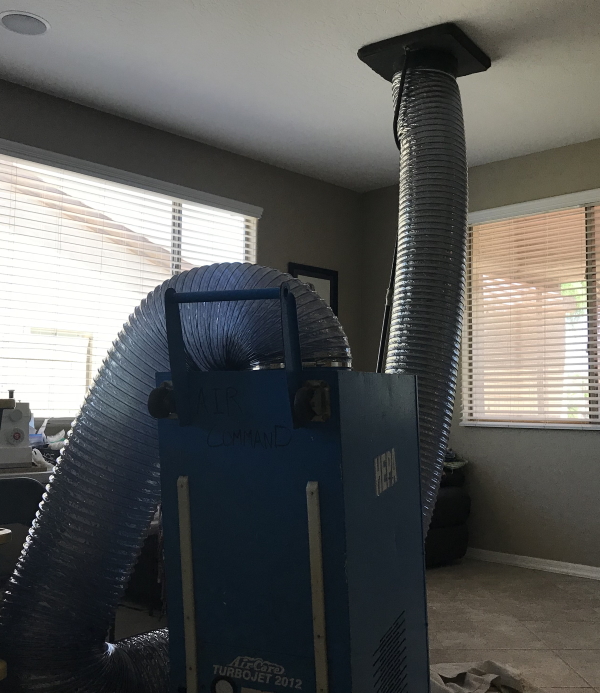 After that, we vacuum out the main returns and ductwork before removing the bags over the filters. It's important that you probably have new filters to replace the old ones, so you are starting with new filters with your newly cleaned air duct system. Then we remove the foam and re-install the cleaned air vents.
Then you are ready to turn your air system back on and enjoy the new fresh air!
We also offer dryer vent cleaning in Phoenix, Litchfield Park, Goodyear, and Avondale. We recommend yours get your dryer vents cleaned at the same time. Lint and dust build up in your dryer vents and are a leading cause of house fires. It doesn't take too long, usually an hour and you will not believe your eyes when you see how much lint, dirt, dust, and debris come out of your dryer vent. We recommend cleaning your dryer vent every year or 2. it's easy to do when we're already cleaning your air duct system, carpet, tile, or upholstery.
As always we appreciate your business and thanks to our awesome clients for the 227+ ALL 5 STAR Reviews on Google!
We service the Phoenix Arizona West Valley including Litchfield Park, Goodyear, Avondale, Tolleson, Glendale, Surprise, Buckeye, Verrado, Sun City, Peoria, Estrella Mountain Ranch, Palm Valley, El Mirage and more. Give us a call for a free estimate: 623-810-7663.
Here is a recent Google review from an Air Duct cleaning client
August 2020
I recently used Allaman Carpet Cleaning for an Air Duct Cleaning and Wow! What a difference!! My client had an unpleasant odor in their home that we tried to eliminate every way possible except cleaning the air vents. Nothing worked until Mitch and his company – Allaman Carpet Cleaning worked their magic! Overall I was very impressed with their attention to detail, professionalism, and value. I will absolutely use them again, not just for Air Duct Cleaning, but also for their other services, carpet and tile cleaning etc. Thanks Mitch!
Did You Know?!
Allaman Cleans More than Air Duct Ventilation Systems?!