Allaman Cleans Air ducts!
Just breathe! With fresh air throughout your home by getting your air ducts cleaned. Allaman Carpet, Tile, and Upholstery Cleaners – Your favorite Phoenix West Valley carpet, tile, and upholstery cleaners, clean Air Duct Systems too!
With more than 228 ALL 5 STAR Reviews on Google – we also clean air ducts and vents. We provide air duct cleaning services throughout the Phoenix Arizona West Valley including Litchfield Park, Goodyear, Avondale, Tolleson, Glendale, Surprise, Verrado, Sun City, Peoria, Estrella Mountain Ranch, El Mirage and more.
Give us a call for a free estimate to clean your air duct system in your Phoenix area home.
It's dusty and dirty in the Phoenix, Arizona desert!
At Allaman Carpet & Tile Cleaning Clean We recommend cleaning your air ducts every year or 2. Improve the air quality your family is breathing! We will remove dust, dirt, and debris from throughout your air duct system in your home and improve the air quality throughout your Arizona home. Here is some information regarding air duct cleaning from the EPA – cleaning home air duct systems.
We can even treat your air duct system with an environmentally safe, green antibacterial mist if you like to protect your family and the air you breathe in your home from harmful bacteria. For more info give us a call at 623-810-6223
Allaman also cleans clothes dryer vents! The build-up of lint, dust, and debris is a huge fire hazard! According to the National Fire Protection Association, there are more than 17,000 dryer vent home fires a year in the US. Learn more about Allaman's dryer vent cleaning service
here >>>  Phoenix West Valley Dryer Vent Cleaning Goodyear Litchfield Park Avondale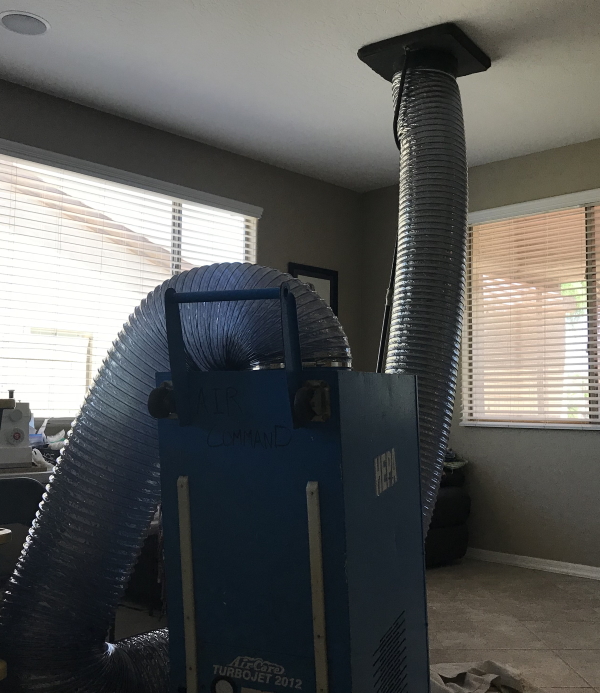 The above picture is of our giant air duct HEPA vacuum system. All the vents throughout the house are sealed with foam except for the specific vent we are cleaning and disinfecting. As our machine works its way back from the open vent to the air handling equipment the powerful vacuum sucks all the loosened dust, dirt, and debris out of the duct system. We do this for every air vent in the home. We also clean the air returns as well as all the vent and air return vent covers.
Remember – It's not clean until it's Allaman Clean!