5 Things to Know About Cleaning Tile & Grout
I bet your tile floors looked awesome when you moved in that beautiful new home in Peoria or Phoenix Arizona West Valley home. As time goes by the accumulation or dirt, Arizona dust, kids and pets tracking in who knows what! Your tile and grout starts to look dull and dingy.
Even with regular cleaning your tile and grout will fade and build up dirt and grime over time. 
Depending on what floor cleaning products you are using you could be adding to the problem. Many over the counter cleaners can leave a wax or chemical buildup that only attracts more dirt and dust and makes the problem even worse.
It's important to have your tile and grout professionally cleaned every year, even twice a year to keep your tile, grout, and carpets clean, fresh, and sanitized for a healthy home environment for your family in Peoria, Arizona. 
Peoria, Arizona Tile & Grout Cleaning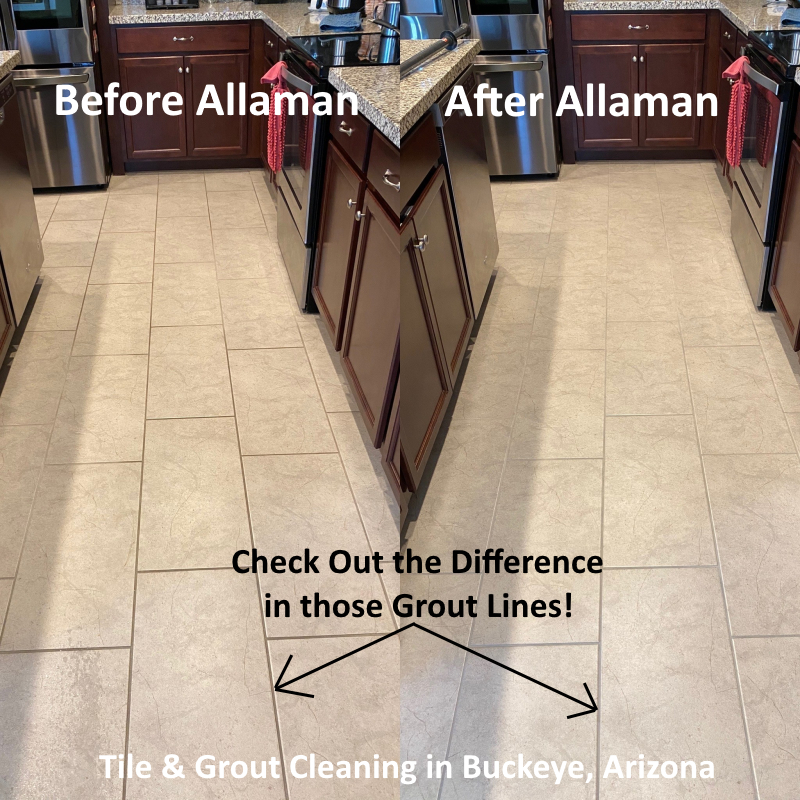 So there you have it. >>>>>>>>>>>>>>>>>>>>>>>>>>>>>>>>  5 Things to do to help maintain your tile and grout in between professional tile and grout cleanings. If you are looking to have your Peoria AZ carpet, tile and Grout or upholstery professionally cleaned in the Phoenix West Valley give Allaman Carpet, Tile and Upholstery Cleaning a call fro a free estimate at 623-810-7664.
Color Seal Grout Video
Here is a video of a Grout Color Seal Video we did awhile back at a clients home in Palm Valley in Goodyear, Arizona. Gives you an idea of what it takes to color seal grout and what an amazing difference it can make after it's done.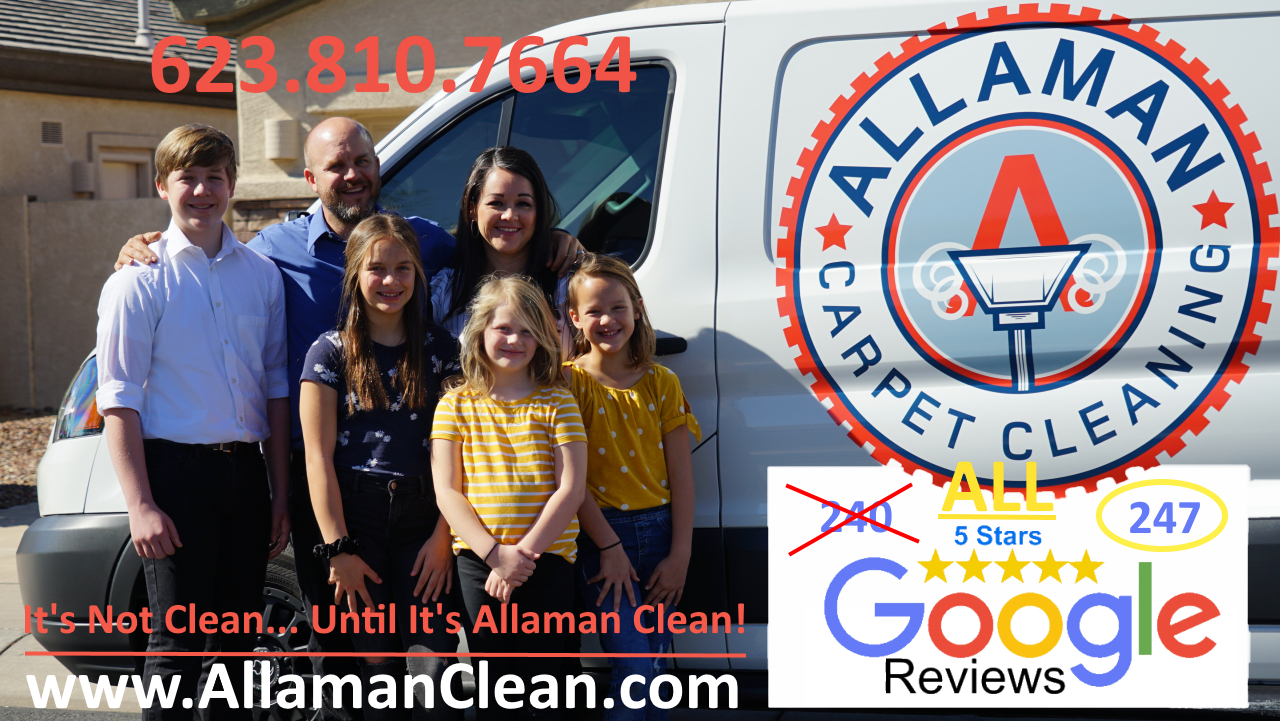 5 Things to Maintain Your Tile & Grout
We compiled this list of 5 things you can do to help maintain your tile and grout in your Peoria or Phoenix Arizona home between professional tile and grout cleanings.
Seal your grout. If you didn't get your grout sealed when you bought the home, get it professionally cleaned then immediately seal the grout when it's dried. Grout is porous and this will keep it from absorbing spills and dirt. You can even color seal, so if you have dark-colored grout and you want light-colored grout, we can color seal your grout which colors and seals the grout at the same time.  Tes, Allaman can color seal your grout for you as well. You can do it yourself but it is very tedious and can take a whole day. 
When you mop your tile floor, keep your mop water clean. I know, sounds like a pain right? It is. But as soon a the bucket of water you are rinsing the mop in gets dirty, from that point on you'll just be spreading the dirt around on your floors. So keep your rinse water clean!
Go easy on the commercial over the counter tile and floor cleaners. Sure, you want your tile floor to be clean and sanitized.  Using products with bleach or harsh cleaners can erode the grout and cause more harm than good. There are natural solutions you can use, with hot water and add some vinegar and baking soda. For more porous floors like marble where the vinegar can be too harsh try a little peroxide in the water. The point is to avoid using waxy cleaners that will just build up and make your tile look worse.
Clean Grout = Clean Tile Floors.   Grout is porous and attracts dirt and liquids can soak in. If you seal your grout correctly and regularly clean it, your floors will look clean. If you clean your grout periodically it will keep the overall look of the floors looking clean. Best way to do that in Peoria and the Phoenix West Valley? Call Allaman Carpet, Tile, and Grout Cleaning of course!
Learn what type of tile and grout you have. Knowing what specific type of tile you have, stone, travertine, or marble will help determine what cleaning products or cleaning process is best for your specific tile. Is your grout color sealed?  If you don't know, give us a call. When we're out at your home cleaning your carpet, tile and grout with our professional carpet, tile and grout cleaning equipment, we'll let you know exactly what type of tile you have and what is the best method of cleaning and cleaning products for between professional clean appointments.
When your carpet, tile & grout or upholstery needs cleaning, if you want the best carpet, tile and upholstery cleaner in the Phoenix West Valley you found them. There is good reason Allaman Carpet, tile and Upholstery Cleaning has more than 250 ALL 5 Star Reviews on Google.
We ask questions and we LISTEN to our clients. 
We work extremely hard.
Top-notch customer service and we communicate effectively
We value honesty and integrity. We give it and we expect it in return.
We usually do the job right the first time, in the rare event that we make a mistake, we always make it right.
More than 17 years of Experience cleaning tile in Litchfield Park
We HAVE BRAND NEW EQUIPMENT in 2020!
(We're Excited can You tell?)
Allaman Carpet, Tile and Grout Cleaners provide quality carpet, tile and upholstery cleaning throughout the Phoenix West Valley including, Peoria, Glendale, Surprise, Sun City, El Mirage, Waddell, Buckeye, Goodyear, Avondale and Litchfield Park carpet and tile cleaning.