Allaman Cleans Clothes DRYER VENTS! Watch this video:
You won't believe the amount of lint, dust, dirt, and debris we removed from our clients' clothes dryer vent ducts.
They are so fortunate they called Allaman before they had a clothes dryer vent fire. According to the National Fire Protection Association there are nearly 17,000 clothes dryer vent home fires a year in the US. Don't let that happen to you!
Enjoy the benefits of getting your clothes dryer vents cleaned in your Phoenix Arizona home!
Clothes Dryer will run more efficiently.
Cleaning your dryer vent allows the air to move freely from you dryer to the vent on the outside of your house minimizing the gas or electric energy usage to run your clothes dryer.
 Extend the life of your clothes dryer!  The more lint, dirt, dust and debris built up in your clothes dryer vent system the harder your dryer has to work. Te harder your clothes dryer works the more likely it is to wear down the internal components of the dryer shortening the lifespan of your dryer!
Fresher smelling clothes!
Improve the quality of air flow, improve the quality of the fresh smell of freshly cleaned and dried clothes.
Reduce Chances of Carbon Monoxide Poisoning. If you have a Gas dryer operating with little or no airflow to the outside exhaust, this can cause Carbon Monoxide to back up into your home. As I'm sure you know Carbon Monoxide poisoning is very harmful and can result in serious health problems, sickness or even death.
Keep your family safe! The peace of mind that comes from knowing you've reduced the risk of a dryer vent house fire or carbon monoxide poisoning. Not to mention the energy savings and extending the lifespan of your dryer.
Schedule your Carpet, Tile, Upholstery or Home Air Duct Cleaning along with your dryer vent cleaning to receive a multi service discount! 623-710-7664
Litchfield Park Dryer Vent Cleaning:
We highly recommend cleaning your clothes dryer vent ducts every year. Schedule your clothes dryer vent inspection and cleaning call: 623-810-7664  We provide clothes dryer vent cleaning in the Phoenix Arizona West Valley including Goodyear, Avondale, Litchfield Park, Estrella, Verrado, Pebble Creek, Peoria, Surprise, El Mirage and Glendale in Maricopa County AZ. Here's some interesting info on clothes dryer lint fires related statistics from FEMA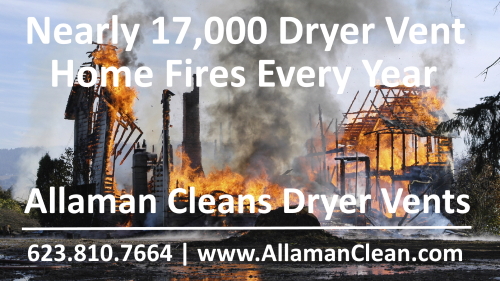 Click here for more information on Allaman Clean's
clothes dryer vent cleaning services in Phoenix West Valley 
or give us a call for a competitive dryer cleaning quote at 623-810-7664.
Allaman also provides quality Air Duct Cleaning in Phoenix AZ. West Valley including Goodyear, Avondale, Litchfield Park, Estrella, Verrado, Pebble Creek, Peoria, Sun City, Surprise, El Mirage, and Glendale in Maricopa County AZ.