Answers To Carpet, Tile & Upholstery Cleaning Questions We Get Asked Frequently
Here are some answers to common questions we get from carpet, tile & grout and upholstery cleaning clients in the Phoenix, Arizona West Valley. We provide quality carpet cleaning, tile & grout cleaning, and upholstery cleaning services in the  Phoenix West Valley including Goodyear, Avondale, Litchfield Park, Estrella, Verrado, Pebble Creek, Peoria, Sun City, Surprise, El Mirage, Palm Valley, Tolleson, Waddell, and Glendale in Maricopa County AZ.
FAQ'S - Frequently Asked Questions
Here is some Frequently Asked Questions I get from customers in Litchfield Park, Goodyear, Avondale the Phoenix Arizona West Valley. If you have a question about our carpet or Tile cleaning services and you don't see it here give us a call at 623-81-7664. We're always available to answer your questions or provide a free tile, carpet or upholstery cleaning cleaning quote.  We also clean Dryer Vents and Air Ducts as well!
Q: Is your carpet and tile cleaning process green or can it be green?
A: Yes. We can be 100% green. Our new carpet and tile cleaning equipment we purchased in 2020 is very powerful, runs extremely hot and power suction. We can get even the dirtiest carpets, tile & grout and upholstery as clean as possible without using harsh chemicals or soaps that leave residue/ 
Q: What carpet and tile cleaning method do you use?
A: Hot water extraction steam cleaning. The power of heat and steam. Again, our new equipment this year is even powerful than before capable of hotter water temperatures and more power extraction suction.  Our new equipment gives Allaman to Clean the ability to clean your carpets or tile in Litchfield Park, Goodyear, Avondale. Glendale, Peoria, Surprise, Sun City, Buckeye, Verrado, Estrella, Pebble Creek, and the Phoenix West Valley as good or better than any other cleaning company. Here's a thought – Ask your carpet or tile cleaner when their carpet, tile, and upholstery cleaning equipment was manufactured. 5 years ago? 10 Years ago? Longer. Yes, there are some carpet and tile cleaning companies out there using very old, outdated equipment.  Ours was manufactured in 2020. You'll get only the best quality and customer service from Allaman Clean. Give us a call and see for yourself. 623-810-7664
Q: Do you pre-treat the carpet and tile?
A: In most cases yes. Pre-treating helps break up the ground in dirt and grime so the extraction machine can suck it up out of your carpet, tile, and grout. Grout is porous and absorbs all kinds of dirt, grease, and even wax and polyurethane from household floor cleaners, which part of the problem with grout getting so dirty over time. 
Q: Do you service all areas of the Phoenix Valley?
A: Yes.  We mainly focus on the Phoenix West Valley especially Litchfield Park, Goodyear, Avondale, Peoria, Glendale, Surprise, Suncity, Waddell, El Mirage, Verrado, and Estrella but we have traveled to other parts of the Valley like Tempe, Scottsdale Mesa< Gilbert and Chandler as well. 
Q: What form of payments do you accept?
A: Any and All! Cash, Zelle, Debit, Venmo, PayPal, etc…
Q: How Long does my carpet need to dry before I can walk on it?
A: On a normal cleaning about 6 hours. If you had some especially dirty or soiled areas and we had to really work hard, it could be wetter and take up to 12 hours for the carpet to completely dry. 
Q: How far out are you booked?
Typically we are anywhere from a few days to a week out. If you call me this week, I can usually get you scheduled for a carpet or tile cleaning next week. 
Q: Are you doing anything special because of Covid-19?
A lot of Phoenix West Valley cities have mandated wearing a mask in public. I am happy to comply and wear a mask when I am cleaning your carpet or tile in your home in Litchfield Park, Goodyear, Avondale, or other Phoenix West Valley areas. 
Q: Why is my grout so dirty?
A: We get this question a lot! Grout is porous and absorbs all sorts of dirt and stains easily. It also absorbs the floor cleaning products you use when you mop, it leaves a residue that traps the dirt, stains, and grime in and makes it difficult to get out. 
Our New carpet and tile equipment in 2020 is the best money can buy. It's our commitment to quality. The heat generates in the steam cleaning process and the powerful suction is going to remove those hard to get out stains with ease.   
If your tile & grout has been color sealed, a grout sealant that is a particular color starts coming off it can make your grout look blotchy. If this happens after we clean the tile and grout, we let it dry thoroughly then we are available to come back and do a color seal to make your grout look brand new. If you are interested in a tile and grout color seal let us know and we'll provide you a free estimate. 
Q: How often should we have our carpet and tile cleaned?
At a minimum, you should really clean your carpet and tile once a year. Some clients do it every 3 months or so.  If you wear shoes in your home more frequently is advised. If you have kids, you want to keep a clean and healthy surface for them to play and roll around on. With the dust, and dirt in Arizona, your tile and carpet can get dirty pretty fast, especially if you are tracking it in from the outside. 
Q: Do you clean Dryer Vents and Air Ducts?
Yes. We have all the equipment to clean both your air duct ventilation system and your dry vents.  Dryer vents can accumulate quite a bit of lint, and debris creating a fire hazard. It's very affordable and important to do a dryer vent cleaning once a year. 
Cleaning Air duct systems are more involved so costs more. We remove all your air vent covers and clean them. Then clean the ductwork from every vent back to the air handler. Depending on the size of the home and how many vents it can take anywhere from 4 to 8 hours to do a thorough cleaning and sanitizing of your air ducts. It's about the quality of the air you breathe, right? 
What Do You Charge Per SqFt to Clean Carpet and Tile
We get asked this question many times, every single day. How much does carpet cleaning cost? How much per Square Foot for tile cleaning?  Etc… Etc…
Here's our answer! Give me a call at 623-810-7664 for a free estimate.  We don't like to post our rates on the website for our competitors to see. We're happy to quote you, just call or text with your requirements and approximate square footage.
Are we the cheapest? No. Are we the most expensive, usually not. We are somewhere in the middle, with what we believe are very competitive and fair rates, for a professional carpet, tile and upholstery cleaning company that has 20 years of experience in Arizona. Our equipment is newer and the best money can buy.
Put that all together -Experience. Top Notch Equipment. Skilled Trained Technicians. The Best Customer service in the Valley.   We are a bargain for the competitive rates we charge. Give us a call and find out.
Allaman Carpet and Tile Cleaning is Up To 305 ALL 5 Star Reviews on Google!
Our clients love us. How else would we possibly achieve over 300 all 5 Star reviews?!  I'll tell you how – consistent, quality and hard work, great communication, and doing the job right each and every time. Our reputation is everything and we work extremely hard to maintain it. A BIG thank you to all our loyal clients for their awesome reviews!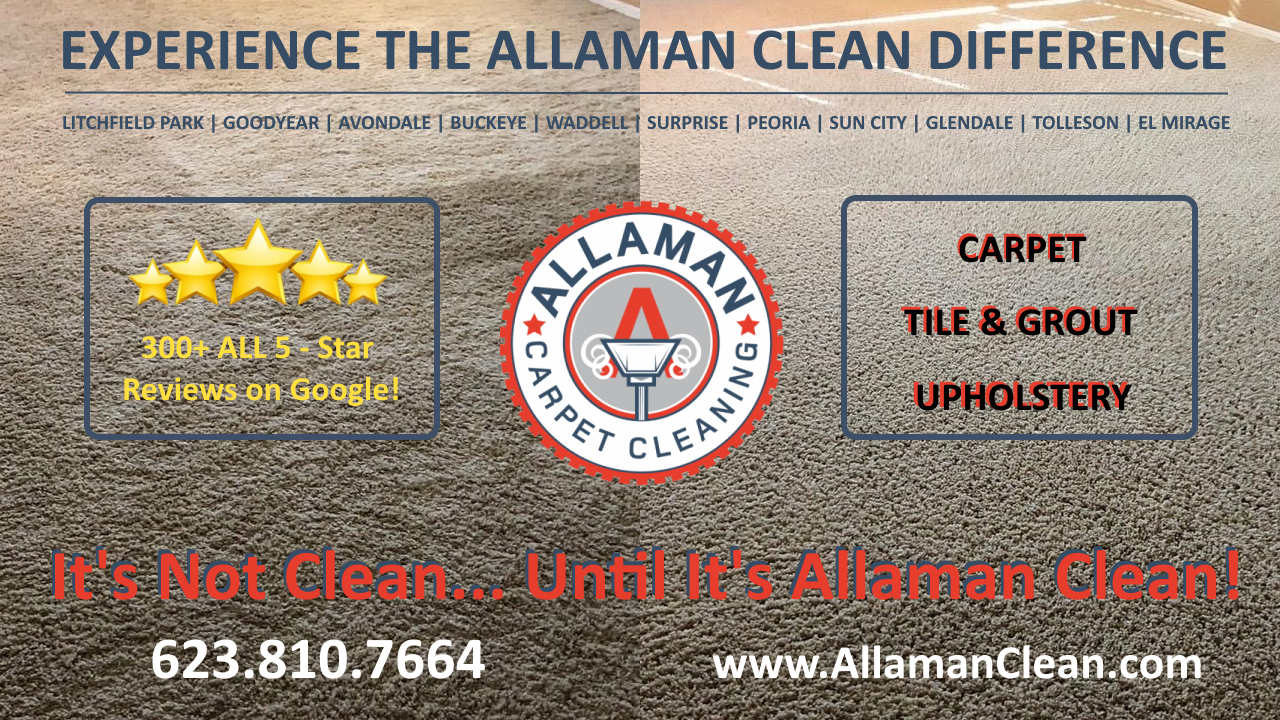 Check Out Our Other Recent Carpet, Tile & Upholstery Cleaning Blog Article Posts
Thanks for reading our blog article and remember….
It's Not Clean… Until it's Allaman Clean!
Reach Out: 623-810-7664