Who Is The Best Carpet Cleaner in Goodyear Arizona?
Good question! The simple answer is Allaman Carpet Cleaning in Goodyear, Arizona. Allaman really cares about their clients and it shows in the quality of their work. From carpet cleaning to tile, grout and upholstery cleaning, expect nothing but the BEST from Allaman. Bust don't take our word for it, see what recent Goodyear carpet cleaning clients have to say about Allaman Carpet Cleaning in Goodyear. 
There Is A Really Good Reason Allaman Carpet Cleaning Has 296 ALL 5 Star Reviews on Google Business Reviews
Here are a few of the Reviews, or Search Allaman Carpet Cleaning on Google to View All 296 Reviews on Google.
Stacy n Georgette Pietrie     –  5 STARS!
Goodyear, Arizona
Sept. 2022
Positive: Professionalism, Punctuality, Quality, Responsiveness, Value
We had this company clean the carpeting in our new house. We then decided to have them steam clean the ceramic tiles.
WOW! A great job all the way around! Great guys and nothing negative to say! Prices are reasonable and workmanship is amazing! Will be using them again and recommend them hands down!
Nick Newman – 5 STARS!
Goodyear, Arizona
Sept. 2022
The bedroom's carpet was trashed beyond belief when we purchased a short sale. My wife and I discussed buying new carpet for each room but heard through a friend about his carpet cleaning experience with Allaman CC. We gave him a call and he was out here the next day with a very reasonable quote. We were blown away by the results and professionalism of Mitch. Thanks again Allaman Carpet Cleaning you saved us a ton of $$$$
Greg Murphy – 5 STARS!
Goodyear, Arizona
Sept. 2022
Mitch and his team did a great job! Very responsive and took care of the identified areas and more that I didn't even see. Ring that this was a rental property and the previous owners had cats I was worried that the slight Oder would remain. That was not the case and weeks later all is good – I will use and recommend Mitch and his team in the future
Maddisen – 5 STARS!
Goodyear, Arizona
Aug. 2022
Wow, I'm really impressed with these guys. We have 4 dogs, they came and cleaned the carpets as well as the tile floors, everything looks and smells brand new!!! They did an awesome job!
How Do You Determine Who is The Best Carpet Cleaner or Carpet, Tile, Grout & Upholstery Cleaning Company in Goodyear, Arizona?
Well, If you go by the Google Business Ratings, it's hands down Allaman Carpet Cleaning in Goodyear, AZ.  There isn't even another carpet cleaning company in Goodyear with more than 100 All 5 Star Reviews on Google. Allaman Carpet Cleaning has 296, All 5 Star Reviews on Google business pages. ALL 5 STARS! They must be doing something right!
It's simple really, we have almost 2 decades of experience serving carpet, tile, and upholstery cleaning clients in Goodyear and the Phoenix West Valley. We have newer, state-of-the-art truck-mounted carpet and tile cleaning equipment. We care about you and your home. We pride ourselves in providing the best possible carpet cleaning service available in Goodyear Arizona. 
BEFORE & AFTER CARPET CLEANING PICS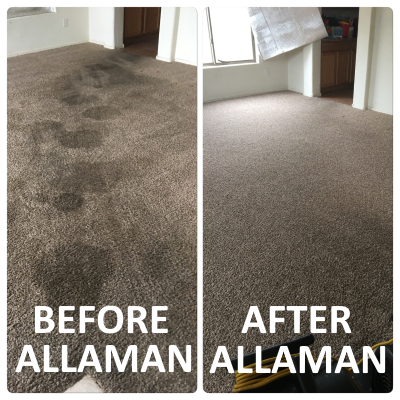 CONTACT ALLAMAN CARPET CLEANING IN GOODYEAR, ARIZONA
Contact Allaman Carpet Cleaning:
Give Us a call for free carpet, tile or upholstery cleaning quotes in Goodyear, Arizona, or Email Us with any questions you may have about our carpet, tile and upholstery cleaning services in Goodyear, Arizona.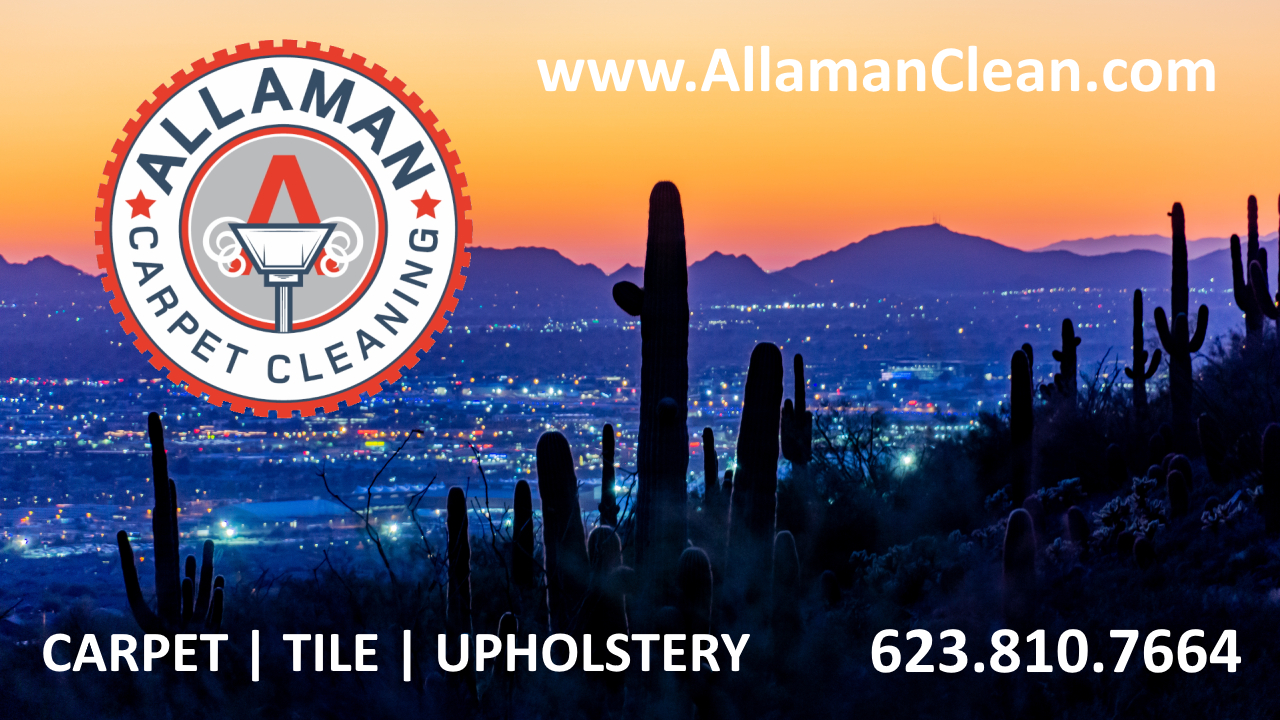 Email:
AllamanClean @ Gmail.com