We at Allaman Carpet Cleaning, LLC in Goodyear, Avondale and Litchfield Park Arizona believe in leaving carpets residue-free. We are in many homes and businesses in the metro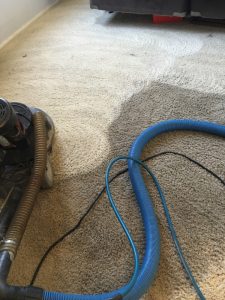 Phoenix, AZ area specifically the West Valley and we value the longevity residue-free cleaning brings.
With Carpet cleaning we use what we need to as far as pre-spray to get the soil to release from the fiber but almost all the time we rinse with Procyon which is soap-free and leaves the carpets in a healthy clean state.
Upholstery cleaning is a process that normally allows us to do a true green clean (so Procyon pre-spray and rinse) which yields the same healthy clean result.
A year or so ago we were called to JGDC Chiropractic in Litchfield Park, AZ because they had the carpets cleaned by another carpet cleaning company and a small child was crawling around in waiting room and the child's hands and knees were black from residue. So, we at Allaman Carpet Cleaning went in and green-cleaned it rinsing it clear and they have not had a problem since and we been asked back to the business to clean their carpets multiple times.
Another factor is what kind of water do we rinse with, we rinse only with reverse-osmosis filtered water in conjunction with the best technology chemical-wise on the market. So, when it comes to tile cleaning we use a high alkaline prespray and then rinse with hot high temp, high pressure filtered water which leaves it looking like brand new!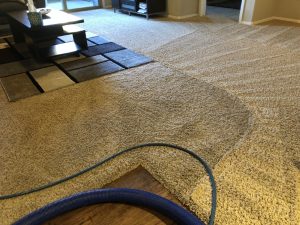 Allaman Carpet Cleaning, is bringing superior residue free carpet and tile and upholstery cleaning to every job no matter if it's in Litchfield Park, AZ or Avondale, AZ or Goodyear, AZ or Surprise, AZ or Estrella Mountain Ranch, AZ or Waddell, Peoria, Glendale, Verrado or anywhere in the Phoenix Arizona West Valley. Call Allaman Carpet, Tile and Upholstery Cleaning at 623-810-7664 for a no obligation quote on your next Phoenix AZ area carpet, tile or upholstery cleaning project.
There is a good reason Allaman Carpet, Tile and Upholstery Cleaning has received more than 150+ ALL 5 STAR Reviews on Google!