Trust is Implied! | Alaman Carpet, Tile, Grout, and Upholstery Cleaning 
We at Allaman Carpet Cleaning, LLC value trust and relationships. We work, live, and play in the Phoenix West Valley. Our home is in Avondale, we have 4 kids, and our office is located in Litchfield Park Arizona. Our community is very important to our family. We are in many people's homes in the whole metro Phoenix, AZ area specifically the Phoenix west side in Litchfield Park, Goodyear, Avondale, Surprise, Sun City, Glendale, Verrado, Estrella, Peoria, and Buckeye. We value the trust at all levels that are instilled in us as professionals to do a job. Whether it's carpet cleaning, tile cleaning, or upholstery cleaning Allaman Carpet Cleaning brings only the very best behavior, skills, techniques, communication and equipment to the table.

A few weeks ago I got a text from a customer in Litchfield Park, AZ asking if I could check my system for a diamond earring she was missing. I went and checked all my hoses, waste tank, filters, and trash for the few days prior and I came up with nothing. I texted the customer letting her know and hoped it would be found.
The faith that Allaman Carpet Cleaning instilled in her as a company allowed her to not worry in the least that neither my helper nor I would do something like that. Before our customer found the earring they left a 5 star Google review for Allaman Carpet Cleaning, LLC through Google. I have to admit I was humbled and grateful by the show of confidence.
About a week later I got a text that the customer had found the earring, and thanked me for my response to her request.
Allaman Carpet Cleaning is bringing this to every job no matter if it's in Litchfield Park, AZ or Avondale, Goodyear, Surprise, Peoria, Sun City, Glendale. Phoenix, Verrado, or Estrella Mountain  Ranch in the  Phoenix  Arizona  West  Valley.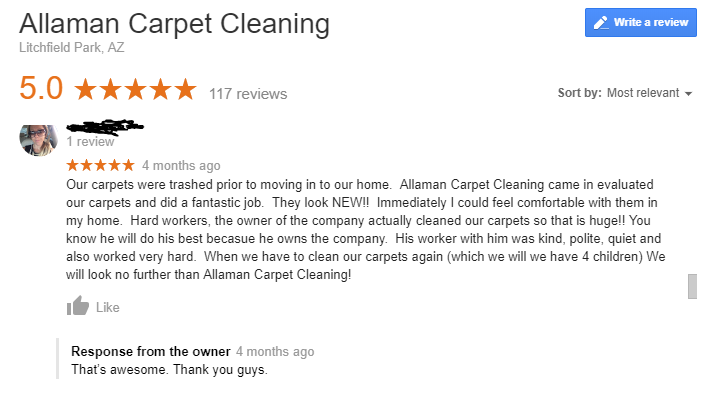 This is just a good example of how good these relationships can be for all parties involved. We love our clients and they love us! We ask questions, we communicate, and we work hard to do the best possible carpet, tile, and upholstery cleaning job every time. That's how we ended up with more than 230 ALL 5 STAR Reviews on Google so far. We always go the extra mile! Always!