Allaman Carpet, Tile, and Grout Cleaners in the Phoenix West Valley – Litchfield Park, Goodyear, and Avondale Arizona has 228+ ALL 5 STAR Reviews on Google! How did we get them? Why do our customers like Allaman Carpet Cleaning so much?
Especially when we know that everything doesn't go perfect every day on every job!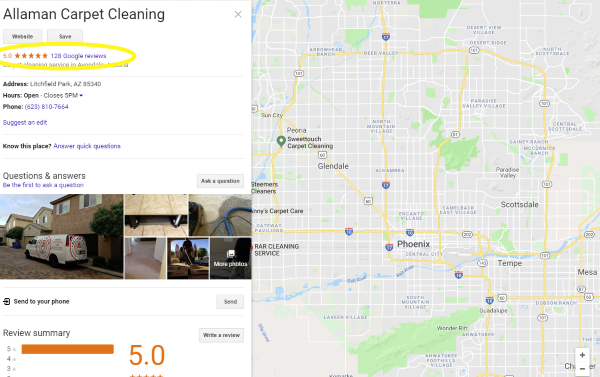 Yes, we have bad days too. Days where things do go wrong. The difference we believe is that when we encounter a difficult or problem carpet or tile cleaning situation, we believe in doing whatever it takes to get the job done right and make the customer happy.  In fact, we don't stop at happy clients, we go the extra mile because we want RAVING FANS of our carpet, tile, and grout cleaning business. We take our business very seriously and are here to serve our community providing the best possible carpet, tile and grout cleaning experience in Phoenix, Goodyear, Litchfield Park, Avondale, Buckeye, Estrella, Pebble Creek, Surprise, Glendale, Peoria and the Phoenix West Valley in Maricopa County Arizona.
We at Allaman Carpet Cleaning, LLC value trust and relationships. We are in many people's homes in the whole metro Phoenix, AZ area specifically the west side and we value the trust at all levels that is instilled in us as professionals to do a job.
Whether it's carpet cleaning, tile cleaning, or upholstery cleaning Allaman Carpet Cleaning brings only the very best behavior, skills, techniques, and equipment to the table. That being said, things do happen! So then what do we do?
Here is a specific scenario:
Problem: Carpet was left "crunchy" in a green cleaning scenario. How? If we mixed at 2oz/gal of Procyon and rinsed at 3GMP (which is what is expected) and is it actually crunchy or is it "stiff"? Stiff is unavoidable in a Berber carpet scenario where when did not groom post-cleaning (kind of like when you would wash a shirt and dry it on a clothesline with no dryer and/or fabric softener).
Solutions? Could have groomed it (with a carpet rake) which would have agitated the fiber and allowed it to loosen up. And/or Could have rinsed with only soft water instead of metering in green cleaner (Procyon) as well as pre-spray. The main point? Communicate with the customer better! Lesson learned.
From that situation, we developed a positive communication process.
Communications: Let the customer know stiffness is not the same as crunchiness, it's like hanging a clothing item out to dry on the line outside. Without the dryer and the fabric softener that's the way it be. Let customer know prior to cleaning!! …and don't presume!!! 
Result of that specific scenario: Customer not happy with end result Carpet Cleaning because of "crunchiness."
Question: Were expectations spoken of prior to? Not good enough this time.  We should have explained is can be "stiff' after. I didn't so we were almost asking for a quality issue.
Communication should have been: Ask customers directly what their expectations are prior to, Don't be afraid to say no! or say it is un-cleanable. Do an in depth in person walk-through and identify certain problem areas.
So what did we do to try and make it right?
First thing is to check my water softener and see if it needed a charge to make it as soft as it should be daily. Then check with a competitor and see if they have ever had that issue and what I maybe did wrong. Cleaned my own house with the same technique used at that job to see what maybe the problem could be. That's when I realized that it is "stiff" which could be conceived as "crunchy" then I am ready to call the customer.
Call the customer: I called customer and apologized and spoke with her a bit on the subject and admitted my wrongs, what I thought the problem could be and asked if we could make it right. So a mistake was made, learned from, and an attempt to rectify.
Lesson learned – Customer communication is key. Being patient and explaining all steps of the carpet, tile, grout or upholstery cleaning process with our clients.
It is rare for us but when we do have an issue with a client or a client is not completely satisfied with our work we always make the effort to communicate and rectify the situation. That is our promise to you.
Here are a few Allaman Carpet, Tile, and Upholstery Cleaning Recent – Client Google Reviews:
   5 STARS – Dana Fetters – Litchfield Park, AZ.  April 2018
Our carpets were trashed prior to moving into our home. Allaman Carpet Cleaning came in evaluated our carpets and did a fantastic job. They look NEW!! Immediately I could feel comfortable with them in my home. Hard workers, the owner of the company actually cleaned our carpets so that is huge!! You know he will do his best because he owns the company. His worker with him was kind, polite, quiet, and also worked very hard. When we have to clean our carpets again (which we will have 4 children) We will look no further than Allaman Carpet Cleaning! 
  5 STARS – James Maltbie – Litchfield Park, AZ.  May 2018 
Fantastic response time, service, and results at a reasonable cost. I Highly Recommend Mitch to anyone in need of carpet cleaning. I thought the nearly white carpet was a complete loss after seeing the stains but Mitch saved it and made it look and feel as good as the day it was installed. Thank you!
  5 STARS – Richard Prescott – Palm Valley / Goodyear, AZ.  April 2018
Mitch got me in at the last minute. He did a really good job in total, particularly on my high traffic areas and a dining room that needed some life. 2 nice touches that I appreciated: 1) he ran a small dryer in key areas so they would be dry faster and less likely to get new dirt quickly 2) he called a few days later to make sure everything was ok! I thought that was smart to check in the job and make sure something wasn't missed. Kudos!
  5 STARS – Dave Rider Goodyear, AZ May 2018
Mitch was on time, professional, and explained every step of the process before he began. His team made our carpets look brand new. We also had them clean our tile and grout as well as seal the grout. Once they got into the grout they realized it had been color sealed previously and recommended we do color seal again. We did and it came out amazing. Watching them work I could tell the color seal was difficult tedious work. They worked so hard and the result is outstanding! Our tile and grout look brand new! We are so happy we chose Allaman Carpet and Tile Cleaning. Also, the owner Mitch gave us a call a couple of days later to follow up on the work and make sure we were happy! Who does that these days? Mitch at Allaman Carpet Cleaning DOES! Incredible job guys, outstanding customer service. I HIGHLY recommend Allaman Carpet, Tile, and Upholstery Cleaning.
  5 STARS – Alisha Pfeifer – Verrado / Buckeye, AZ. May 2018
I do not usually review unless I mean it! Fair prices, great customer service, and he did an amazing job! He is the third carpet company I have had out in two months, and he is the first one that did the job well! I highly recommend!