Welcome to Allaman Clean | The BEST Tile and Grout Cleaning Company in Litchfield Park, Goodyear, Avondale, Buckeye and the Phoenix West Valley.
Allaman Clean offers advanced green, clean, tile and grout cleaning, acid restore, and color seal services in Phoenix West Valley including Goodyear, Litchfield Park, Avondale, Estrella, Verrado, Pebble Creek, Surprise, El Mirage, Sun City, Peoria, Glendale and more.  It's Not Clean… Until it's Allaman Clean!
Call us today for a free estimate to clean, restore and seal your tile and grout. We also provide quality carpet, rug and upholstery cleaning. At Allaman Carpet and Tile Cleaning we are family owned and operated and we pride ourselves in offering the best possible service at an affordable price.
There are several steps to achieving a new clean look with your tile and grout.
First we inspect the tile and grout to be cleaned, we look for any damage to grout and tile. If there are any holes in the grout or tile that is not adhered properly we will communicate post-cleaning expectations to customer. Every situation is different, sometimes an acid restoration is needed in heavily trafficked situations or maybe color sealing is what is right for the customer. Often a regular high alkaline cleaning and sealing grout is what work's the best.
We vacuum all areas to be cleaned prior to. Then we pre-spray the tile and grout, scrub the grout after letting dwell for some time then extract using reverse-osmosis filtered clean water. If acid etching is necessary we add that step to the process.
The final step is sealing, often it's a clear solvent based seal we use to seal the grout. If a color seal is needed we do that as well ( Color Seal is Additional Cost)
We always do a post-cleaning walk-through with the customer to assure absolute satisfaction.
There are many reasons to clean your tile and grout professionally. First is aesthetics of course, who doesn't love a clean, new-looking tile floor?  The second and most important is to remove the ground-in dirt, grime, oils and germs and provide you and your family with a clean sanitary tile floor.
At Allaman Carpet, Tile / Grout and Upholstery Cleaning we are family-owned. My family and I live right here in the West Valley. From my family to yours – Come experience the Allaman Clean Difference ~ Mitch Allaman
Did You Know?!
Allaman Cleans More than Tile & Grout?!
Litchfield Park, Arizona Dryer Vent Cleaning
Thanks for visiting our Phoenix Arizona West Valley Website. Remember – It's Not Clean…Until It's ALLAMAN CLEAN! 
Proudly providing quality carpet, tile, grout, and upholstery cleaning service to the Phoenix Arizona West Valley including Goodyear, Avondale, Litchfield Park, Estrella, Verrado, Pebble Creek, Peoria, Sun City, Surprise, El Mirage, Palm Valley, Tolleson, Waddell, and Glendale in Maricopa County AZ.
Allaman Carpet, Tile & Upholstery Cleaning has more than 280 ALL 5 Star Reviews on Google Business Pages.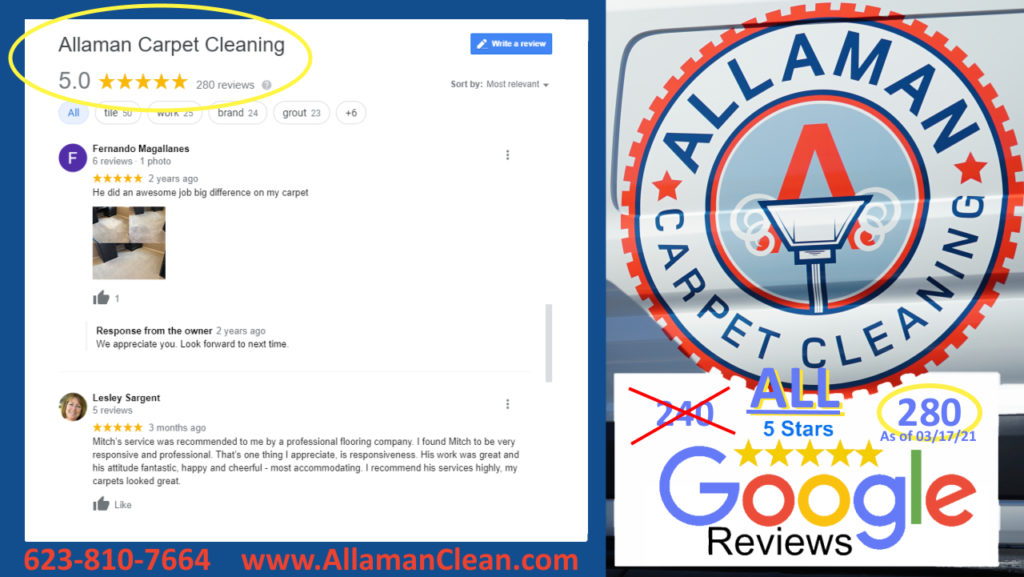 Call for a free estimate: 623-810-7664